IPA defines "Auteur" as a filmmaker whose singular vision and unique artistic control over the elements of production give a personal and signature style to their films.
Greta Gerwig
22nd Satellite Awards, 2017
Robert M. Young
20th Satellite Awards, 2015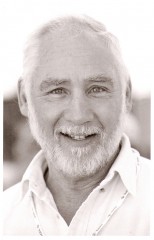 Whether it's living with traditional Eskimos, trekking 400 miles with rebels during the Angola war, or filming with 1,000 extras, director Robert M. Young's specific passion for filmmaking is being recognized this year as the International Press Academy (IPA) honors him with the 2015 Auteur Award.
Robert M. Young was born in the Bronx. His father Al Young, a filmmaker, was founder of DuArt Film Labs in New York City. His father wanted him to be involved in the family business and therefore he studied chemical engineering at MIT. At 18 he left MIT during the WWII to join the Navy and spent two years as a photographer in New Guinea and the Philippines. In the 50's he formed a small cooperative to make documentary films while in Harvard College.
Martyn Burke
19th Satellite Awards, 2014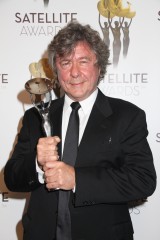 Martyn Burke, who wrote and directed the Peabody-award-winning documentary Under Fire: Journalists in Combat, is the latest recipient of the Auteur Award. Burke began his career as a freelancer, less than a year after leaving school, by paying his own way to get into conflict areas across Southeast Asia, sometimes going into battle zones with the U.S. military as a way of getting fed. From there he went on to make films in Europe, Africa and South America for the Canadian Broadcasting Corporation. Among them was Idi Amin—My People Love Me, one of only two films ever made with the murderous Ugandan dictator, and Carnivals, the feature documentary about a huge carnival traveling through America.  Burke is an auteur who moves effortlessly between the worlds of novels, documentaries and motion pictures. Burke has an upcoming book, Music for Love of War available in March, and he is working on a much-anticipated adaptation of his earlier novel, The Commissar's Report for HBO.
Guillermo del Toro
18th Satellite Awards, 2013
 For nearly thirty years, filmmaker Guillermo Del Toro, the 2014 recipient of the Auteur Award, has pushed the boundaries of horror, the paranormal and fantasy, creating works that probe the darkest elements of the id.  Del Toro's amazing career incorporates his work as director, producer, screenwriter, and novelist.  Del Toro, a native of Guadalajara, began his professional career after mentorship by special effects make-up wizard, Dick Smith.  The youthful Del Toro started his own special effects make-up house, Necropia, created the film production company, the Tequila Gang, and become co-founder of the Guadalajara International Film Festival.  His work in films incorporates a number of genres, including comic books, historical fantasy, and horror.  His directorial works include Cronos, Mimic, The Devil's Backbone, Blade II, Hellboy, and the acclaimed Pan's Labyrinth.
In 2010, Del Toro launched Mirada Studios.  The mission of Mirada is to be a collaborative space that allows filmmakers to create and produce projects that span digital production and content for film, television, advertising, interactive and other media.  Del Toro released his most current film, Pacific Rim in the summer of 2013.  The international hit grossed $411 million at the box office.  He is currently in production on Crimson Peak, a Gothic horror film that began shooting in Toronto this month.  Crimson Peak will have an April 2015 release date.
In June 2009, Del Toro published his first novel, The Strain, the first in an apocalyptic vampire trilogy co-authored by Chuck Hogan.  His television project, The Strain, based on his literary trilogy, is set to debut on FX later this year.
Paul Williams
17th Satellite Awards, 2012
For Paul Williams, his role as current President and Chairman of ASCAP is just his newest chapter. Beloved worldwide for the "Rainbow Connection" ("The Muppet Movie") song, Williams is also the lyricist behind iconic hits "We've Only Just Begun," "Rainy Days and Mondays," (The Carpenters), and "Evergreen (Love Theme from 'A Star Is Born')," for which he received the Academy Award for Best Original Song with Barbra Streisand.  An Oscar and Grammy winning singer/songwriter, Williams has been inducted into the Hall of Fame for songwriting and has received Golden Globe as well as EMMY nods. He wrote "The Love Boat Theme," and appears in "Paul Williams: STILL ALIVE," a just-released documentary.
Peter Bogdanovich
16th Satellite Awards, 2011
Alex Gibney
15th Satellite Awards, 2010
Award-winning documentarian Alex Gibney is known for sharp, insightful explorations into complex subjects that often tear at the fabric of society. "Taxi to the Dark Side" (2007), which won Gibney the Best Documentary Oscar, explored torture practices in Abu Ghraib as seen from the POV of an innocent Afghani cab driver who ultimately loses his life. "Enron: the Smartest Guys in the Room," which was Oscar nominated, took apart the image of a global multinational that duped its own employees and the world with breathtakingly corrupt businesses practices.
In 2010, Gibney put together a searing project about the demise of New York Gov. Eliot Spitzer's career through the lens of his involvement in various political and personal scandals. The film "Client 9: The Rise and Fall of Eliot Spitzer" includes a prescient look into Wall Street abuses. Gibney's other credits include his work as a segment producer on "Freakonomics;" as director on "My Trip to Al-Qaeda" and "Gonzo: The Life and Work of Dr. Hunter S. Thompson."
IPA recognized Alex Gibney for his fearless work as a documentary director and producer.
Roger Corman
14th Satellite Awards, 2009
Roger Corman's sweeping influence on fledgling producers who are now household names is widely acknowledged. Some of Hollywood's most familiar and talented personalities were formed under the influence of the man who began his career as a messenger on the Fox Lot. His list of protégés includes: Jack Nicholson, Francis Ford Coppola, Peter Fonda, Diane Ladd, Talia Shire, Peter Bogdanovich, Robert DeNiro, Martin Scorsese, Sally Kirkland, Ron Howard, Charles Bronson, Joe Dante, Jonathan Demme, Gale Ann Hurd, and James Cameron.
Corman's sphere of influence began when, as a top genre director in the 1970's, he formed his own studio. Shot in weeks or sometimes in days, many of Corman's off-beat groundbreaking productions like "The Little Shop of Horrors" went on to become worldwide cult hits.
The acclaimed director is also credited with making the first "biker" movie "Wild Angels" (1966), starring Peter Fonda and Nancy Sinatra. A year later Corman backed "The Trip," a film written and directed by Jack Nicholson that ushered in the psychedelic film genre.
Steeped in imaginative special effects and mind-buckling plotlines involving unlikely creatures like "carnosaurs," "dinocrocs," and outsized insects, Corman's trademark personal style spawned its own industry of admiring imitators. The word Cormanesque even entered the language underscoring his power as an "Auteur."
Baz Luhrmann
13th Satellite Awards, 2008
Australian export Baz Luhrmann's film "Australia" was nominated for nine (9) Satellite Awards, from Original Score to Cinematography, including a 10th statuette for the Auteur Award. Oscar-winning Art Director Catherine Martin, Luhrmann's wife, co-produced the film.
Luhrmann's signature stylized take on filmmaking is unmistakable in its lush and elegant self-proclaimed "Red curtain" presentation, which draws heavily from the theatrical world. Known for acclaimed projects "Moulin Rouge!," "Strictly Ballroom," and an innovative take on Shakespeare's "Romeo + Juliet," with Leonardo DiCaprio and Claire Danes, the New South Wales native said that he made sweeping epic "Australia" with a "big cast, big stars" in order to underscore the fact that this film "is a romance, it is not a documentary."
Baz Luhrmann will direct the remake of F. Scott Fitzgerald's "The Great Gatsby" in 2012, reteaming with Leonardo Di Caprio in the lead role as a doomed member of the Jazz Age.
IPA recognized Luhrmann as an "Auteur" and risk-taker in both scope and style.
Julian Schnabel
12th Satellite Awards, 2007
Brooklyn native Julian Schnabel took the art world by storm with his first solo exhibition as a painter in 1979 at the Mary Boone Gallery in New York, and became a defining force on the international art scene. From the Whitney in New York to the Tate Gallery in London, Schnabel's paintings, sculptures and works on paper earned him worldwide acclaim for bold explorations that challenged existing aesthetic boundaries. Schnabel's incorporation of "smashed plates" on canvas became his signature style.
In 1996, Schnabel got behind the lens for the first time when he wrote and directed "Basquiat" based on the life of his art world compatriot, the late Jean-Michel Basquiat.
With Schnabel's exploration into Basquiat's life a new career in filmmaking
emerged. "Before Night Falls" (2000), his next biopic, was based on the life of controversial Cuban writer Reinaldo Arenas (1943-1990). Javier Bardem received a Best Actor Oscar® for his portrayal of Arenas, as envisioned by writer/director Schnabel.
IPA recognized Julian Schnabel's film "The Diving Bell and The Butterfly," hatched from the book "Le Scaphandre et le Papillon" by Jean-Dominique Bauby, and the screenplay from Ronald Harwood, as the film that solidified his status as an "Auteur."
Robert Altman
11th Satellite Awards, 2006
Revered by independent filmmakers as a dynamic influence, Robert Altman died in 2006 and was recognized with a posthumous tribute as the IPA's Auteur Award recipient. His body of work from "MASH" to "Nashville" to "The Player" to "Short Cuts" to "Gosford Park" reflects a half century of cinematic exploration that began with a co-screenwriting credit on a B-movie about a detective in 1948.
Known as an unrepentant iconoclast, Altman best expressed his views about the business in a mid-90's interview with the New York Times. "They don't try to make good movies now," he said. "They're trying to make successful movies. The marketing people run it now. You don't really see too many smart people running the studios, running the video companies. They're all making big money, but they're not looking for, they don't have a vested interest in the shelf life of a movie. There's no overview. No one says, 'Forty years from now, who's going to want to see this?' No visionaries."
IPA recognized Robert Altman as a true visionary as well as an "Auteur."
George Clooney
10th Satellite Awards, 2005 (first Auteur Honoree Awarded)
With Oscar-winner George Clooney's directorial debut Confessions of a Dangerous Mind (Miramax) in 2002, his talent as a first-time director was underscored by the National Board of Review's Special Achievement in Film Award. Syriana, also from Section Eight, depicts the darker side of government intrigue and showcases Clooney's ability to mine the edges of complex characters on screen.
Clooney's second directorial outing, Good Night, And Good Luck, charts the era of McCarthyism through the eyes of TV news great Edward R. Murrow. He plays Murrow's longtime dedicated producer Fred Friendly in the period piece that touches on the public feud and private horror resulting from political 'witch hunts' in 1950's America. IPA recognized the actor-turned-director with the Auteur Award for this film and a promising future as a filmmaker.