The Mary Pickford Award for Outstanding Artistic Contribution to the Entertainment Industry reflects a lifetime of achievement, and is the IPA's most prestigious honor.
Edward James Olmos
21st Satellite Awards, 2016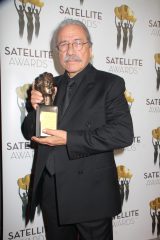 Louis Fletcher
20th Satellite Awards, 2015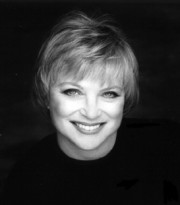 Oscar-winner Louise Fletcher, who won an Academy Award as Nurse Ratched in "One Flew Over the Cuckoo's Nest".
Ellen Burstyn
19th Satellite Awards, 2014
Ellen Burstyn will join the ranks of Rod Steiger, Susan Sarandon, Gena Rowlands, Mitzi Gaynor, Martin Landau, Kathy Bates, Michael York, Terence Stamp, Mike Medavoy and others to receive one of the IPA's highest honors, the Mary Pickford Award for her outstanding artistic contribution to the entertainment industry. Burstyn is one of the few actresses to have earned an Oscar, an Emmy and a Tony Award, among dozens of other accolades and accomplishments in the film, theater and television industries. She has made us laugh, and cry, and shudder with portrayals including The Last Picture Show, The Exorcist, Requiem for a Dream, Resurrection, Same Time Next Year and Alice Doesn't Live Here Anymore.
Mike Medavoy
18th Satellite Awards, 2013
Terence Stamp
17th Satellite Awards, 2012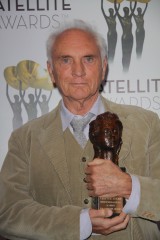 After working with directors Frederico Fellini and Pier Paolo Pasolini, Stamp went on to own the role of 'General Zod' in the 70's "Superman" franchise. He was Michael Douglas' arch-rival in Oliver Stone's 80's definer "Wall Street," and made a brilliant foray into drag chic in "The Adventures of Priscilla, Queen of the Desert." He bookended the 90's in Steven Soderbergh's hard-baller "The Limey."  Stamp also left a mark in the Angelina Jolie-James McAvoy thriller "WANTED" (2008), Tom Cruise's WWII period piece "Valkyrie," and Matt Damon's "Adjustment Bureau."  With fellow Brits Vanessa Redgrave and Gemma Arterton, he appears this year in "Song for Marion" (The Weinstein Co.), where he surprises as a calcified pensioner who finds his voice.  An acclaimed author, his newest memoir "Rare Stamps" is lively reading.
Mitzi Gaynor
16th Satellite Awards, 2011
Emmy winning and Golden Globe® nominated legend Mitzi Gaynor has appeared in 17 major motion pictures including: "There's No Business Like Show Business" (with Ethel Merman and Marilyn Monroe), "Anything Goes" (with Bing Crosby), "Les Girls" (with Gene Kelly), "The Joker is Wild" (with Frank Sinatra), "Surprise Package" (with Yul Brynner and Noel Coward), "For Love or Money" (with Kirk Douglas), and the blockbuster adaptation of Rodgers & Hammerstein's "South Pacific." Gaynor received a Golden Globe® nomination for her role as Ensign Nellie Forbush in "South Pacific."
By 1961, Gaynor made her Las Vegas nightclub debut at the Flamingo Hotel — which not only ushered in a smash-hit run on the circuit and later on tour — but ultimately redefined the scale of grandeur, costuming, and orchestration for such live shows. Notably, she began her long-standing association with designer Bob Mackie. Mitzi was the first star client for whom he designed an entire show. Her brand of "razzle-dazzle" became a staple of television Americana during the 70's after her 1967 rendition of Best Song Nominee "Georgy Girl" at the Oscars.
Her glamorous TV specials, including "Mitz," followed by "Mitzi… and a Hundred Guys," "Mitzi…Zings Into Spring," "Mitzi…Roarin' in the 20's," and more, garnered seven Emmy® Awards and seventeen Emmy® Award nominations. At age 80, Mitzi Gaynor continues to tour with a singing/dancing showcase of her storied career entitled "Razzle Dazzle! My Life Behind the Sequins: an Intimate Evening of Laughs, Love & Music." This one-woman multi-media extravaganza includes footage culled from her films, TV specials, and concert performances.
Vanessa Williams
15th Satellite Awards, 2010
Currently co-starring in ABC's "Desperate Housewives" as "Renee Perry" — a role that earned her an NAACP Image Award as "Outstanding Actress in a Comedy Series" in 2011 — Vanessa Williams is among the most multi-faceted performers in the entertainment industry today.
Williams' critically acclaimed work in film, television, recordings and the Broadway stage has been recognized by every major industry award affiliation including 4  Emmy nominations, 17 Grammy nominations (of which 11 were for her individually), a Tony nomination, 3 SAG award nominations, 6 NAACP Image Awards, 3 Satellite Awards and ultimately a Golden Globe, Grammy and an Academy Award for Best Original Song for her platinum single "Colors of the Wind," from the Disney film "Pocahontas." Vanessa also achieved a career pinnacle with a star on the Hollywood Walk of Fame.
A strong advocate for equal rights, especially concerning the gay community and minorities, Vanessa recently received the Human Rights Campaign "Ally for Equality" Award for her humanitarian contributions.
Michael York
14th Satellite Awards, 2009
Screen legend Michael York's career began on stage in his native country with the English National Youth Theatre. After graduating from Oxford University, he joined Laurence Olivier's National Theatre in 1965 and made his film debut the following year in Franco Zeffirelli's "The Taming of the Shrew" with legendary screen couple Richard Burton and Elizabeth Taylor. He also appeared as Tybalt in the Zeffirelli remake of "Romeo and Juliet."
While Michael York's distinctive voice can be heard in Michael Bay's new smash hit "Transformers: Revenge of the Fallen" (2009), the British-born actor's distinguished life's work includes more than 60 film credits. He dazzled with Liza Minnelli in Bob Fosse's "Cabaret" (1972), found heart throb status as d'Artagnan in "The Three Musketeers" (1973) and its sequels. York played Logan 5 in cult classic "Logan's Run" (1976) opposite the late 70's icon Farrah Fawcett. Other classic credits include Neil Simon's "Murder on the Orient Express" (1974), "The Island of Doctor Moreau" (Burt Lancaster version), and "The Last Remake of Beau Geste" (1977).
Michael York broke through to a new generation of viewers as Basil Exposition, Mike Myer's boss, in the first installment of the Austin Power's trilogy in 1997. He played that memorable character in all three of Myer's spy send-ups, most recently in "Goldmember" (2002), which was released the same year that York received his Star on the Hollywood Walk of Fame.
Louis Gossett, Jr.
13th Satellite Awards, 2008
Oscar® winner Louis Gossett, Jr. began his career in 1958, and is long-recognized for his work as both an actor and humanitarian. He portrayed tough gunnery Sergeant Emil Foley in "An Officer and a Gentleman," for which he won the 1983 Academy Award.
Over the years, his career has reflected the dignity and grace of a true scholar of his craft, from the 1961 production of Lorraine Hansberry's "A Raisin in the Sun," to his EMMY Award winning role in the groundbreaking television mini-series "Roots" to his portrayal of Anwar Sadat in the tele-film "Sadat."
Louis Gossett, Jr., who also gained acclaim for his leading role on the popular science fiction series "Stargate SG-1," has spent many years dedicating his time and energy to humanitarian causes. He is the founder of the non-profit Eracism Foundation aimed creating entertainment that helps bring awareness and education to issues such as racism and societal apathy.
Mr. Gossett was presented the Pickford Award by colleague and previous Satellite™ Award winner, CCH Pounder.
Kathy Bates
12th Satellite Awards, 2007
While Kathy Bates is widely known for her benchmark Oscar® winning role in "Misery," she was most recently seen in "Failure to Launch" with Matthew McConaughey and Sarah Jessica Parker, had a cameo in Rob Reiner's film, "Rumor Has It" and was the voice talent for Bitsy the cow in "Charlotte's Web." She also recently worked with Vince Vaughn and Paul Giamati on the feature film "Fred Claus" as well as re-teaming with her "Titanic" co-stars Leonardo DiCaprio and Kate Winslet for director Sam Mendes' "Revolutionary Road"
The Memphis, Tennessee, native first earned her reputation on Broadway, nominated for a Tony Award for her portrayal of the suicidal daughter in Marsha Norman's Pulitzer Prize-winning play "'night, Mother" and won the Obie Award for her performance as Frankie in the original off-Broadway production of "Frankie and Johnny in the Clair de Lune."
Bates has been twice nominated for the Best Supporting Actress Oscar® for her performances as Roberta Herzel in "About Schmidt" (2002) and as Libby Holden in Mike Nichols' "Primary Colors" (1998), for which she also won the Screen Actors Guild Award. Compelling characters Kathy Bates has brought to the screen include the "Unsinkable" Molly Brown in James Cameron's Academy Award®-winning "Titanic" (1997); Dolores in Stephen King's "Dolores Claiborne" (1995); and the portrayal of Evelyn Couch in Jon Avnet's "Fried Green Tomatoes" (1991), which earned her a Golden Globe nomination. Other film credits include "Little Black Book" (2004) "The Waterboy" (1998), "The War at Home" (1996), "Dick Tracy" (1990), "Men Don't Leave" (1990), "Come Back to the Five & Dime, Jimmy Dean, Jimmy Dean" (1982), "Straight Time" (1978) and Milos Forman's "Taking Off" (1971).
Martin Landau
11th Satellite Awards, 2006
The Brooklyn-born Landau began his professional career on the New York stage.  In 1955, he was accepted by the prestigious Actors Studio, winning, along with Steve McQueen, a place over 2,000 other applicants.  As a young actor, he had leading roles on programs that were hallmarks of the Golden age of television including "Playhouse 90," "Omnibus," "The Kraft Television Theater," and "Studio One." He went on to work off-Broadway making his debut in "First Love," then scoring with both critics and audiences in the highly acclaimed revival of "Uncle Vanya."  The next year saw his Broadway debut in "Middle of the Night."  After touring on the road with Edward G. Robinson, he made his first film appearance in the classic Korean War drama "Pork Chop Hill" with Gregory Peck. His next role as the sadistic villain who falls off Mount Rushmore in Hitchcock's "North By Northwest" and later in the lavish Roman spectacular, "Cleopatra," established him as a viable supporting actor. On the small screen, he was the first choice to play Mr. Spock on "Star Trek" but was involved in the series that was to make him a household name, "Mission Impossible," for which he received an Emmy nomination as Outstanding Lead Actor in a Drama Series for each of the three seasons he appeared and a Golden Globe as Best Male TV Star.
The Academy of Motion Pictures honored him with a Best Supporting Actor nomination for his role in "Tucker: The Man and His Dream" which allowed him to win his second Golden Globe for  that role. The next year, he received his second consecutive Best Supporting Actor Oscar nomination for his excellent work in Woody Allen's "Crimes and Misdemeanors."   He also played famed Nazi hunter Simon Wiesenthal in "Max and Helen," but the zenith of his film career came in 1994 with his portrait of Bela Lugosi in the biopic, "Ed Wood."  For this luminous portrayal of the drug-addicted actor, Mr. Landau won the Best Supporting Actor Oscar.  His performance, which also won him his third Golden Globe, garnered numerous awards in addition to the Oscar and Golden Globe, including top honors from the New York Film Critics Circle and the National Society of Film Critics.
Gena Rowlands
10th Satellite Awards, 2005
Gena Rowlands was born in Cambria, Wisconsin and attended the American Academy of Dramatic Arts in New York. Much of her work includes notable collaborations with her husband, the late John Cassavetes including: "Faces," "A Child is Waiting," "Gloria," and "Woman Under the Influence," for which she received a Golden Globe Award for Best Actress as well as an Oscar nomination. Gena won a 2003 EMMY for Best Supporting Actress on the mini-series "Hysterical Blindness" and continues to do outstanding work in film and television.
On stage Gena Rowlands debuted in the Broadway production of "The Middle of the Night" opposite Edward G. Robinson.  After a lengthy absence to pursue her film career, she returned to the stage to star in Cassavetes' "Love Streams," "The Third Day Comes," and "Woman of Mystery." She appeared with Ben Gazzara in A. R. Gurney's "Love Letters" to sold-out engagements and later starred in "The Substance of Fire" at the Mark Taper Forum.
She also appeared in several films by her son, the noted writer/director Nick Cassavetes, including "Unhook the Stars," "She's So Lovely," and critically acclaimed project "The Notebook" with Ryan Gosling and Rachel McAdams.
Susan Sarandon
9th Satellite Awards, 2005
Susan Sarandon began her career as a Ford model but quickly grew weary of just being a tall and beautiful red-head with striking eyes and began to pursue acting.  She made her film debut as the ill-fated hippie daughter in "Joe." Ms. Sarandon built her career with solid early performances in "Lovin' Molly," "The Front Page," and the female lead opposite Robert Redford in George Roy Hill's "The Great Waldo Pepper."  She attracted widespread attention for her role in the cult hit "The Rocky Horror Picture Show" and earned the first of five Oscar nominations for "Atlantic City" opposite Burt Lancaster.
Sarandon's early film work revealed a rare ability to be both thoughtful and sexy as evidenced by offerings such as "Pretty Baby," "King of the Gypsies," "Compromising Positions," "The Witches of Eastwick," "The Hunger," "Bob Roberts," "Cradle Will Rock." As her career progressed, she came to embody the seductive wise woman in films like "Bull Durham," "White Palace," "Illuminata," and the recent remake of "Alfie."
The depth and range of her work is widely considered among the best of her generation, earning Oscar nominations for "Thelma and Louise," "Lorenzo's Oil," "The Client," and her first Academy Award for "Dead Man Walking." Recently Susan Sarandon starred in "Moonlight Mile," Igby Goes Down," "The Banger Sisters," "Shall We Dance," "Noel," Cameron Crowe's "Elizabethtown," and "The Lovely Bones."
Arnon Michan
8th Satellite Awards, 2004
Robert Evans
7th Satellite Awards, 2003
Karl Malden
6th Satellite Awards, 2002
Francis Ford Coppola
5th Satellite Awards, 2001
Maximillian Schell
4th Satellite Awards, 2000
Alan J. Pakula
3rd Satellite Awards, 1999
Jodie Foster
2nd Satellite Awards, 1998
Rod Steiger
1st Satellite Awards, 1997