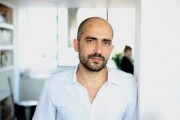 Producer, director and writer Shlomi Elkabetz turned a spotlight on the oppressive world of divorces in Israel. He works closely with his sister, actress Ronit Elkabetz, who also co-wrote and co-directed the award-winning critically-acclaimed trilogy of films To Take a Wife, Shiva (Seven Days) and Gett: The Trial of Viviane Amsalem which took the Cannes Film Festival by storm.
The film series deals with the world of Vivian (played by Ronit) and Elisha (played by Simon Abkarian), and their world within Israeli society. The first installment became more than a decade ago, and the second started about five years ago.
The brother and sister team works flawlessly together. "When we meet to work, we are on another planet," Shlomi explains. They laugh, they discuss, they debate, he says, "And then once we're on the set, we hardly exchange a word." Ronit ranks as among Israel's most respected actresses, the winner of three Ophir awards.
Gett, which was selected as Israel's entry as the Oscars, has become a political sensation in Israel, and it is forcing policy makers to talk about the ancient law that gives men the upper hand in divorce trials. According to traditional Jewish law, which still governs all Jewish marriages in Israel. A marriage can only be dissolved by a court of rabbis, and a woman can't get a divorce until her husband gives his full consent by signing over a gett.
In 2009, Shlomi wrote and directed the second season of Ran Foursome (15 chapters) and in 2011 he directed and produced Testimony, which premiered at the Venice Film Festival.  He has taught cinema for more than a decade at the Sapir College in Sderot and at the Minshar Academy in Tel Aviv, Israel. And, he is the artistic director of "Studio South," the production lab of the Cinema South Film Festival.
For his activism, his passion and his concern for his fellow man, this filmmaker is a perfect representation of the best of independent moviemaking.