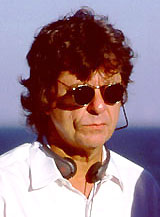 Journalist, novelist, director Martyn Burke is the latest recipient of the prestigious Auteur Award given by the International Press Academy. The honor recognizes the impact of a filmmaker's creative vision and unique artistry. Past recipients have included Guillermo del Toro, Baz Luhrmann, Robert Altman, George Clooney, Julian Schnabel, Roger Corman, Alex Gibney, Peter Bogdanovich and Paul Williams.
Burke, who shares his time between Los Angeles and his native Toronto, will be presented the honor at the 19th Annual Satellite Awards presented by the International Press Academy on Sunday, February 15 in Century City, Calif.
His documentary Under Fire: Journalists in Combat won the Peabody Award in 2012 and was short-listed for the Academy Awards in the Best Feature Documentary category. The film, which he wrote and directed, shows the psychological cost of covering wars and it features prominent war journalists who have covered conflicts for years.
Burke began his career as a freelancer, less than a year after leaving school, by paying his own way to get into conflict areas across Southeast Asia, sometimes going into battle zones with the U.S. military as a way of getting fed. From there he went on to make films in Europe, Africa and South America for the Canadian Broadcasting Corporation. Among them was Idi Amin—My People Love Me, one of only two films ever made with the murderous Ugandan dictator, and Carnivals, the feature documentary about a huge carnival traveling through America.
Burke is an auteur who moves effortlessly between the worlds of novels, documentaries and motion pictures. He has published six highly acclaimed novels and has directed films with such stars as Peter O'Toole, Anthony Quinn, Madeleine Stowe, Sylvester Stallone, Noah Wyle and Anthony Michael Hall. He has won every major directing and screenwriting award in Canada and been nominated for Emmys,  Directors Guild and Writers Guild awards in the US.
Burke has an upcoming novel, Music for Love or War available in March, and he is working on a much-anticipated adaptation of his earlier novel, The Commissar's Report as a series for HBO.
The International Press Academy is a global association of professional entertainment journalists representing a multitude of renowned print, broadcast and digital media outlets. The IPA aspires to continually recognize all artistic achievement whose aim is to entertain, enrich and enlighten, regardless of their chosen platform.
The 19th annual Satellite Awards will be held on Sunday, February 15, 2015 at the InterContinental Hotel in Century City. For tickets, a list of nominees or more information, call the IPA office at (818) 989-1589 or go to www.pressacademy.com.